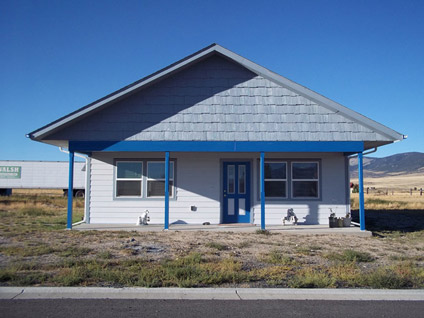 When affordable housing meets energy efficiency, the results for new homeowners can be pretty significant. Just ask Becky, one of the first self-help participants in the program administered by National Affordable Housing Network (NAHN). Before finding out about the program, Becky lived in Madison County, Montana – 45 minutes away from her job in the town of Ennis. She lived in an uninsulated trailer – "constantly wrapped in blankets," she said. Thanks to the help of a great many friends, she was able to build her home and experience substantial cost savings. Now, she says, "I never touch my thermostat, ever. My electric bill? It used to be $135 dollars per month. It's now $5.60, and I am extremely comfortable in my home."
The NAHN Self-Help Program
Since it first began offering the USDA Mutual Self-Help Housing program, NAHN has produced over 100 owner-built homes in a joint effort with Habitat for Humanity of Southwest Montana. This includes four homes that have solar panels to increase affordability for very low-income self-help homebuyers. The result is a net-zero all electric home, with solar panels that fit on southward facing rooftops. Every home in Mountain Horizons subdivision has access to solar power, Miller says, and the finished price with land and electric is affordable – with a price tag of $155,000 to $180,000.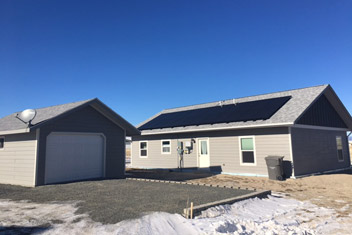 The executive director of NAHN, Barbara Miller, has an extensive background working as a building science projects coordinator at the National Center for Appropriate Technology in Butte. There has been a lot of research done in the area and it has its advantages, but aside from that, Miller says the region "has a troubled health profile, a lot of pollution and the highest suicide rates in the state. It's one of the hardest hit economies in the country, so I see it as one of the best focus areas for eradicating human misery, poverty and hopelessness.
It is why a well-built home can make such a difference, she says.
The Program Results
"Residents suddenly have this great comfort they hadn't known before," she says of the one of the organization's projects. Their electric bill is down, the ventilation is better, often their health starts to improve, and their mood improves; a child's life can be completely transformed. It is a powerful tool in addressing poverty.
Learn More
To learn more about the self-help program offered by NAHN, visit http://www.nahn.com/.