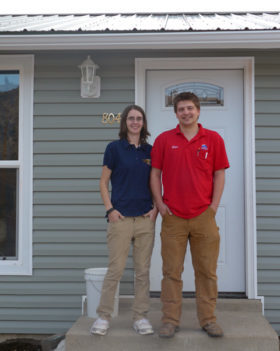 Meet Alex and Angela, a husband and wife duo with a lot perseverance in achieving goals. Since their two children were born, homeownership has been among these goals, but the thrifty couple knew they would have save. They lived in a tiny apartment for three years before starting to look for a home. When the time came, they never settled for a home outside their means, even when the search became grueling. "Our realtor had shown us dozens of houses, and we'd just about given up," says Angela. That was until she attended a self-help housing seminar.
Finding the Home
In came Southeastern Utah Association of Local Governments, the organization that would eventually help them find (and complete) their dream home. They began working with Barbara Fausett, the housing rehab program manager. She helped them navigate the self-help rehabilitation process, and knew they were great candidates. She says, "the Anderson family is what this program is all about. They are very thrifty with their money, and they do not owe anything on a credit card." It is rare that she sees a young family that not in debt.
Sticking with their thrifty mindset, the couple found a foreclosed home from U.S. Department of Housing and Urban Development. It had three bedrooms and two bathrooms – perfect for their family size. Ironically enough, it was located in a town called Helper. The neighborhood, according to Fausett, is desirable and popular. She believed the Andersons' home would resell quickly if the family decided to put it on the market. Alex and Angela bid $87,000 and won.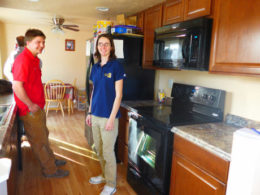 The Purchase Repair Process
The home was purchased, but they weren't finished – it needed a lot of work. The following three years were spent on remodeling the home using the USDA self-help rehabilitation loan funds. They had to learn how to texture and paint drywall, among many other things. The budget for the big projects was $40,000 – which covered installing new siding; constructing a new roof; new kitchen cabinets and countertops; replacing windows and doors; laminate and carpet; extensive wall repair; lighting; and deck railing and sealing, and other things.
Jeff Hoel, the construction supervisor who oversaw the work and sequencing of the plan says, "They hit the ground running." He taught the couple many skills and they did the work themselves, including installing the flooring, a tub, toilet, doors, and cabinets. They learned it all by doing it, Hoel says. Angela and Alex have accomplished considerable things by saving money, including owning their dream home. The home's appraised value resulted in 3% equity even though there was no down payment made.
To learn more about the self-help program offered by Southeastern Utah Association of Governments, visit: http://seualg.utah.gov/