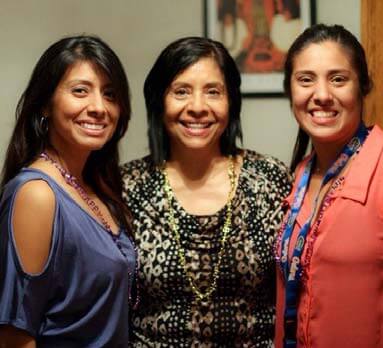 Ms. Yvette has overcome divorce and many obstacles in her life to not only become a self-help homeowner through Florida Home Partnership (FHP), but to prove to single mothers like herself that it's possible to achieve the American Dream of homeownership. Through dedication and hard work Yvette was able to provide her two daughters with a place of rest and ease, a place they were able to call home.
The path was not easy and there were several things she had to overcome. First, she had to move back home from a foreign country to begin the ground work for building her new life. She had to find employment and begin working again, go through the divorce motions, and be there for her two children, who were just toddlers at the time.
Before she was married Yvette joined the United States Army. She served for 2 years with the rank of private 1st class, until opting to resign from active duty since her husband was also an active duty soldier in the Army, and they were preparing for their first-born. As soon as her second child was born, her husband received orders to head over to Wiesbaden, Germany.
The Divorce
As circumstances would have it, Yvette and her husband divorced within 2 years after moving to Germany which forced her to return to the United States as an unemployed, single parent of 2 toddlers. She was only 25 years old at the time and she knew that starting a new life would mean facing many new struggles and sacrifices. She tried to take a positive outlook and ended up finding inspiration in her mother, who taught her that instead of feeling disadvantaged, she should see the good in becoming a single parent. She was in a stage of life that can bring strength and motivation for her children. Yvette saw her mom as a "super hero," and that's how she (Yvette) wants her children to see her.
Building Her Own Home
Yvette's mother found out about the self-help housing program from her hairstylist, and quickly gave the information to Yvette. It was hard to believe that the interest rate was so low, and that she would be able to afford the mortgage. The program required sweat equity instead of a down payment so it could be more affordable. She decided the program was definitely worth looking into. She made an appointment and thoroughly read all the papers because she knew the decision would not only impact her life, but her daughters' lives as well. She was afraid. She worried she would fail and let her children down. She did not let it bring her down, and instead reflected back to her desire to be an inspiration for her daughters and applied for the program. She was on her way to completing the application process.
Her perseverance was tested as she continued raising her daughters with her mother's help, while meeting the demanding requirements of the self-help housing sweat equity program, and while completing her course-work to earn her Associate of Arts Degree. Despite the multiple demands as a single parent, Yvette enjoyed the process of learning about building a home. She worked diligently, was helpful to her work group of self-help homeowners and was able to achieve her dream of homeownership. In May of 2008, Yvette not only completed and graduated with an Associate of Arts degree; she also became a self-help homeowner at the age of 28.
She Still Loves Her Home
Since building her house, Yvette has enjoyed living in her home with her daughters. She likes the fact that her community is quiet and well kept. She enjoys learning to repair things around her home (e.g., repairing a leaky faucet, changing a door knob, replacing a faulty light switch, etc.) which helps enable her to educate other homeowners with confidence. One thing she always mentions to homebuyers, whether they are single or not, "If I did it, you can too! It's mind over matter!"
A mud run and obstacle course enthusiast (particularly events to raise money for cancer research), Yvette exclaims that, "It (participating in the self-help homeownership program) was very challenging, but worth every drop of sweat and tear." Yvette has become a valued employee at Florida Home Partnership since 2008 and is a model of success for the self-help housing program.
Happy Ever After
Yvette is getting married in 2018 and looks forward to expanding her family with her fiance and his daughter.