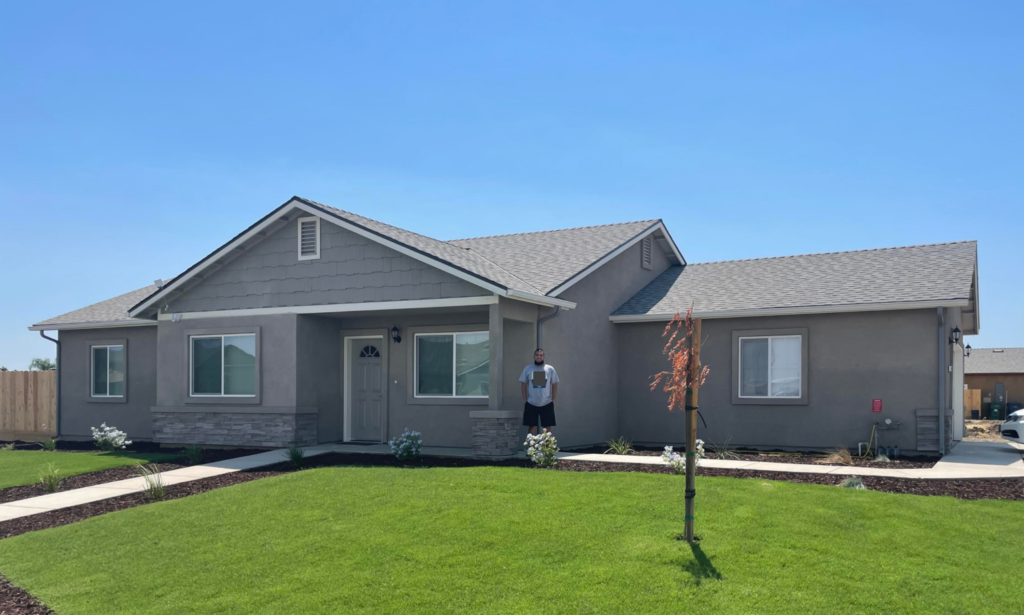 Where there is a will there is a way: A saying to live by for Salvador Moreno, a participant of the Mutual Self-Help Housing Program. For many, building a home is challenging enough. For Salvador, building his home during a global health pandemic while working full-time graveyard shifts was excruciating.
Salvador works in maintenance at the University of Merced, alongside his father. During the last 15 months, he spent his days building his home and spent the nights working at the school, leaving only 3 hours of sleep daily. Luckily, he had the support of his dad, mom and younger brother who all helped him complete his required 40 hours a week.
"The hardest thing for me was waking up all tired and going from working at the University to working on my house. But I learned a lot and was excited to finally get my keys."
"Estamos orgullosos de mi hijo por cumplir un gran sueño," said Salvador's mother, Josefina Moreno. "Espero que disfrute su casa a lo máximo." ("We are so proud of our son for accomplishing one of his biggest dreams. We hope he enjoys his new home for many years.")
Salvador is one of 10 families who recently finished building their home in Planada. This is the 23rd group of families to build in this area, with the 24th group already in progress. Planada is a census-designated place in Merced County, located nine miles east of the City of Merced with total population fast approaching 5,000. The area is near Yosemite National Park and UC Merced and shows potential for future job growth. The median home price in Planada is about $141,000, while median income is about $35,700. This demonstrates the dire need for more quality affordable housing opportunities.
Through SHE's Mutual Self-Help Housing Program, eight to twelve families are grouped together and agree to help each other build their houses with skilled onsite supervision. The homes are built under the mutual self-help method of construction where each family is required to contribute a minimum of 40 hours a week working on all the homes for a period of 9 to 12 months. These labor hours, known as sweat equity, are used as the down payment on their new home, reducing costs for a new home they could otherwise not afford. SHE also assists each applicant with securing the loans needed to build their home. Special financing from the U.S. Department of Agriculture and the State of California makes these homes affordable. Unfortunately, due to COVID-19, there were many delays in the construction process.
"This group was on track to complete their homes in early February, and then the pandemic caused a ripple effect of delays which stopped construction for three months," said Rick Gonzales, Program Director for SHE's Mutual Self-Help Housing Program. "This group was averaging over 55 hours per week and continued to work hard even with all the frustrations of delays."
"I was so happy that we had a good group of families, all dedicated to getting the work done. But because of COVID, there were delays and we had to wait a lot longer to get our keys," said Salvador.
Salvador learned first-hand the importance and long-lasting benefits of homeownership. "He comes from a Self-Help home his parents built back in 1994. His parents prepared him to be a self-help participant and informed him of all of the essentials, from income to credit requirements," said Lupe Felix, SHE's Senior Loan Processor. "When I took his application, it was so easy to process because he knew the program and was ready to become a homeowner, even at such a young age."
He first reached out to SHE about 3 years ago and successfully completed the Gateway Program where his homeownership readiness was assessed. He then took the required classes online and successfully moved through the program.
Salvador also picked up very useful skills such as working with cement. "I actually now help my buddies who work in construction when I get a chance," said Salvador.
In honor of Homeownership Month, SHE celebrates Salvador Moreno for becoming a new homeowner. We wish him a lifetime of blessings and continued growth and success.
If you are interested in participating in our Mutual Self-Help Housing Program, please contact Lupe Felix at (559) 802-1641 or by email at lupef@selfhelpenterprises.org to get the process started.