Terry Rogers | Milford Beacon | September 16, 2014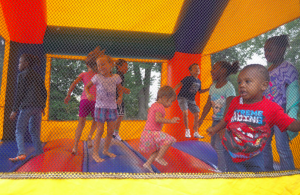 In celebration of their 37th year in operation, Milford Housing Development Corporation held their Third Annual Fall Festival, offering games, inflatable toys, music and food to the community. The event began two years ago when employees decided they wanted to celebrate 35 years of providing affordable housing to community members who suffered from obstacles to homeownership.
"We wanted to celebrate what we do to help people in Milford," said David Moore, President and CEO of the organization. "What began 37 years ago with nothing but a group of volunteers and a board of directors who managed to grow despite the fact we had no staff, now has 140 employees and we have projects stretching from north of Wilmington to Selbyville. Our property management department serves Delaware, Maryland and Virginia and we hold $35 million in assets. Quite an accomplishment for a group that began with one apartment building."
MHDC is a value-driven nonprofit housing developer whose mission is to provide decent, safe and affordable housing to people of modest means. They are Delaware's leading nonprofit provider of affordable housing, offering a continuum of affordable housing services. The group provides transitional, multi-family rental and self-help housing, as well as home repairs, rehabilitation, financial guidance and property management services.
"There is definitely a need out there for affordable housing," Mr. Moore said. "We work with the individual from the very beginning, helping them analyze their credit and tell them what to do to get it in order so that they can apply for a mortgage. We work with them throughout the process. Not too long ago, we were doing orientations for new homeowners once a month. Now we are doing them every Friday."
The self-help housing program is the only federal program that combines "sweat equity" homeownership opportunities with technical assistance and affordable loans for rural families. The program builds on the barn-raising tradition of rural American where families frequently contributed time to help a neighbor build structures. Families participating in the self-help program perform approximately 65 percent of the construction on the homes, which are built in groups of five.
Rhonda, whose home is supposed to be completed at the end of the month, said that she had been searching for an organization like MHDC for years. Rhonda, who has three children, a 16-year old and twin 11-year olds, enjoyed the celebration with her sons.
"This has been an incredible experience," Rhonda explained. "A friend of mine built her home with MHDC and she was the one who put me in touch with them. I had tried everything and when my friend gave me the number, one phone call was all it took. They worked with me hands-on." Rhonda said she had to provide an $11 money order so that MHDC could get a copy of her credit report in order to get the process started. She was lucky enough that her credit was in good shape which made the process easier for her.
According to Rhonda, a team of five homeowners worked together to build their homes. She said she helped with framing, putting in floors and painting. Some of the work had to be contracted out, such as electric, plumbing and HVAC services, although a homeowner who has those skills could do that work themselves as well.
Paula Puello was not quite as fortunate as Rhonda as her credit "was a mess." Ms. Puello took the Financial Literacy Class through MHDC in order to develop better financial management skills. Once she was able to clean up her credit, she applied for a mortgage, something she had done two times before and been declined. She was approved thanks to what she learned from the Financial Literacy Class and the process began on her home building journey.
"I always wanted to own my own home, but I didn't know what to do to get approved," Ms. Puello said. "I started by getting a secured credit card, using it and paying it on time. Slowly, I built my credit back up until I was able to qualify for the mortgage. Because of the Financial Literacy Class, I not only was approved for a mortgage, but was also promoted at my job."
Ms. Puello and Rhonda both said they have learned a lot about building a home as they did a lot of the work themselves. In addition to learning about construction, the women say they have developed the skills necessary to remain financially responsible. MHDC follows up with them even after they have taken possession of the home so that if they find themselves struggling financially, the organization can guide them in what they need to do to get back on track.
"President Obama speaks of ladders of opportunity and how important it is to provide those ladders of opportunity to others," said Bill McGowan of the USDA Rural Development Program. "One of the biggest ladders is home ownership and with self-help housing, you are creating that ladder. There is tremendous satisfaction in saying 'I built that house.' By owning a home you get to do things in the community, such as shopping and building an economy. Home ownership causes a ripple effect much like a pebble tossed in a lake."
In addition to the celebration held at the MHDC complex on Masten Circle, the organization also held an open house for a duplex on Northwest Fourth Street that was listed for sale. The three bedroom, 1½ bath home is available for purchase by qualified buyers for about $110,000. Buyers must be 50 percent or below the area medium income in order to qualify to purchase the home. The home is Energy Start rated and includes a five appliance package.
The first duplex built by the agency, which sits next door to the one for sale, has been sold. Once this duplex sells, the agency will build a third on the lot next door. Each duplex has a large backyard and a weather-resistant deck with a privacy panel.
"An idea that began in Milford has spread statewide," said Representative Dave Wilson who attended the festival. "Milford Housing Development Corporation is making dreams come true. One of the biggest obstacle facing people today is affordable housing and we all know home ownership is the American dream. Milford Housing Development Corporation is to be commended for thinking out of the box and looking ahead to the future."