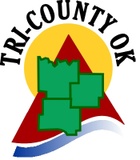 Tri-County Indian Nations Community Development District started in 1994 to focus on the betterment of our area. Our mission includes developing high quality, affordable housing, building community development, and non-profit capacity building. Tri-County is a non-profit 501(c)3 Community Development Corporation.
Tri-County's mission is to guide, initiate, implement, and fund strategies and programs that promote opportunities for economic and self-improvement throughout the entire Tri-County Enterprise Community. Tri-County's goals include: economic opportunities, creating jobs, attracting private partnerships, workforce development, providing business assistance (loans), community development, adequate and affordable housing, self-help housing, community outreach, support for long-range planning, sustainable community development, promoting physical and human development – such as safe streets, clean air and water, lifelong learning, healthy communities and commitment to personal, family, and civic responsibility.
Overview of the Self-Help Program
Our program enables qualified individuals and families to be able to build new homes. This program is offered to you by a combination of government financing, the coordination of Tri-County OK, and the family's labor.