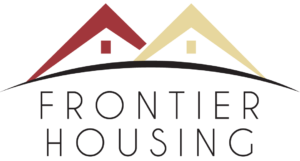 Our Mutual Self-Help Housing Program is a way to help families and individuals in our area achieve home ownership. A group of households are brought together and work with each other and Frontier Housing to build each others' houses. Frontier provides training and support throughout the process. Construction experience is NOT required – just a willingness to learn and a commitment to work thirty hours a week.
We're With You Every Step of the Way
Navigating the mortgage application and lending processes
Identifying and purchasing the land
Selecting your house plan and finishing options
Constructing your new home
Why Should I Participate in Mutual Self-Help?
The Mutual Self-Help Program is an opportunity to build a strong community connection with your neighbors. It strengthens families and creates an opportunity for wealth. Self-Help communities are formed, not based solely on a shared street name or common fence, but on a shared commitment of hard work, mutual support, and long-term stability. Self-Help is able to offer an opportunity for lower income households to own and build their own home. There is no down payment, construction costs are low due to sweat equity, and the financing options are more affordable.
Impact on Your Family
Mutual Self-Help encourages children. 90% graduated high school and, of those, 55% attended college. Children from Mutual Self-Help families are more likely to be engaged in activities both in and out of school. They are more positive about their future and have a positive outlook on their likelihood of getting into college. Adult children of Mutual Self-Help builders are also likely to be homeowners at a young age. Almost 20% of the adult children of the families surveyed are already homeowners, despite their median age being only twenty-four.
What is the Frontier Housing difference?
We were founded by compassionate volunteers who believed that families living in unsafe, overcrowded, and high-cost conditions deserve better. We are one of the largest builders of AFFORDABLE, energy-efficient homes in Kentucky and one of the most trusted homebuilders in our region. We believe in the transformational power of homeownership.
Here's how we help you achieve that:
We work with anyone, regardless of income.
We offer FREE credit counseling.
We provide access to fair loans and assistance with down payment and closing costs.
We offer special programs, like the Mutual Self Help program, that reduce buyers' cost.
We have loan programs for both building a home and buying an existing home.
Visit our website to create an account today to learn even more about our services and to begin your own journey to homeownership.
DID YOU KNOW? Frontier Housing is not limited to lower income brackets. If your household earns between 80% and 120% of the area median income, CONTACT US as we may have special financing available for your income level!
Frontier Housing can also lend to ANYONE looking for a home in the State of Kentucky and can build a home in any county in our service region: Bath, Bracken, Boyd, Carter, Elliott, Fleming, Greenup, Lawrence, Magoffin, Mason, Menifee, Montgomery, Morgan, Robertson, Rowan, and Wolfe. *HUD guidelines in KY are county-specific. To better understand your case, please call a team member today at (606) 784-2131 or email info@frontierky.org.
---
Historical Data
Year Began
2018
Total Homes Built
15
Area Served
Rowan, Bath, Elliott Counties in Appalachian Kentucky
---
FRONTIER HOUSING AT WORK