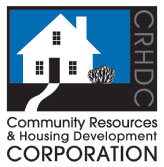 CRHDC has helped over 1,600 families build their homes in 30 different counties through our mutual self-help housing program, which allows new home buyers to take an active role in the construction of their own homes. In this program, participants contribute significant "sweat equity" towards the construction of their home, bringing down development costs and producing a more affordable home. Each family contributes a minimum of 30 hours of labor per week towards the homes for approximately 6 to 8 months.
Overview of CRHDC's Self-Help Housing Program
CRHDC's Mutual Self-Help Housing Program gives you the opportunity to build your own house. Working together with other families, you will learn valuable construction skills as you build your own house. There is no construction experience required because our construction supervisor will be there every step of the way. The months that you spend building your home can save you as much as $20,000, and there's never a payment to make during construction.
You will choose your own house lot and work with other families in the same area to build each other's homes. You will choose the colors of your siding, roofing, paint, carpet, flooring and cabinets. Your house will be uniquely yours!
No construction experience needed—we will teach you everything you need to know. Some tasks will be completed by professionals but everything else is up to you and the other members of your group. In addition to your new home, you will be gaining valuable skills in budgeting, construction, maintenance and home repair.
CRHDC's Mutual Self-Help Housing Program provides stable foundations for families, neighborhoods, and communities. We are currently seeking interested homeowners in both Trinidad and Alamosa to participate in this program.
---
Historical Data
Year Began
1971
Total Homes Built
1800+
Area Served
Alamosa, Costilla, Conejos, Rio Grande, Saguache, and Weld Counties
---
Photos